Boston Whaler 320 Vantage wins 2015 Miami Boat Show Innovation Award
Miami, Fla. (Feb. 17, 2015) — Boston Whaler's new 320 Vantage debuted at the Miami International Boat Show to an attentive audience of boating enthusiasts and members of the press — and it did so bearing one of the industry's most coveted accolades: an Innovation Award in the Deck Boats category from the National Marine Manufacturer's Association (NMMA).
"We're honored to have received the Innovation Award for our newest Vantage," said Boston Whaler President Huw Bower. "The 320 Vantage represents the next generation of design ingenuity and capability for Boston Whaler, so we're thrilled to
have this award crowning its introduction to the market." Standout elements of the 320 Vantage include its portside companion seating, a remarkably versatile feature that converts to form multiple configurations, including a sprawling sunpad and various social setups. In addition, the forward seat is electrically actuated and can be used with bolsters up while running.
The roomy open bow is another graciously designed space, with amenities including a large integrated cooler and lounges with back- and armrests. Additional features lend comfort and convenience on all-day outings, including spacious port and starboard console compartments with a convertible berth and a well-equipped head, respectively; and a cockpit utility center with sink, cooler and storage, plus an optional grill and refrigerator, for easy  entertaining. And thanks to Whaler's exclusive Unibond® construction and superior dual-console design, the 320 Vantage provides a remarkably soft, safe, dry ride, and smooth, predictable handling—key selling points for families with children and hardcore anglers alike. Two reliable and quiet Mercury® Verado outboards fuel the fun.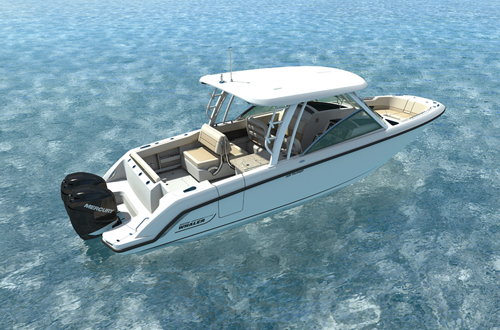 "The Vantage series has always been about multi-functionality, offering a 'new view on the possible,'" said Jeff Vaughn, Boston Whaler's Vice President of Sales, Marketing and Customer Service. "The 320 Vantage expands those possibilities even
further, with sophisticated design solutions and comfort-minded features that make the boat as well suited for serious fishing and watersports activities as it is for leisurely cruising and entertaining."
2015 marks the third consecutive year Boston Whaler has received an Innovation Award. "This winning streak is significant because it mirrors our trajectory as a company," said Bower. "For the past several years we have been experiencing
unprecedented growth, such that Boston Whaler, with the full support of our parent company, Brunswick, recently invested 10 million dollars into a major expansion of our manufacturing facilities, including the addition of more than 120 jobs. To achieve
this level of success in today's economic climate is a testament to our fantastic team, and to the extraordinary new ideas and new solutions put forth by our talented engineers, designers and builders."
The Innovation Awards program, organized by the NMMA and judged by Boating Writers International (BWI), recognizes products that best meet criteria including innovative distinction from other products currently being manufactured; benefit to the
marine industry and/or consumer; practicality; and cost-effectiveness. The judging committee is comprised of BWI members who perform product testing throughout the year and have specific expertise in marine products. This year's contest featured a
record number of entries, up 68 percent compared to last year, making Boston Whaler's win even more notable.
"The 320 Vantage signifies our investment in smart design and purposeful innovation—innovation that improves the boating experience and continues to push the boundaries of what's possible," said Bower. "We're pleased to earn recognition
from the NMMA that our efforts have again hit the mark."