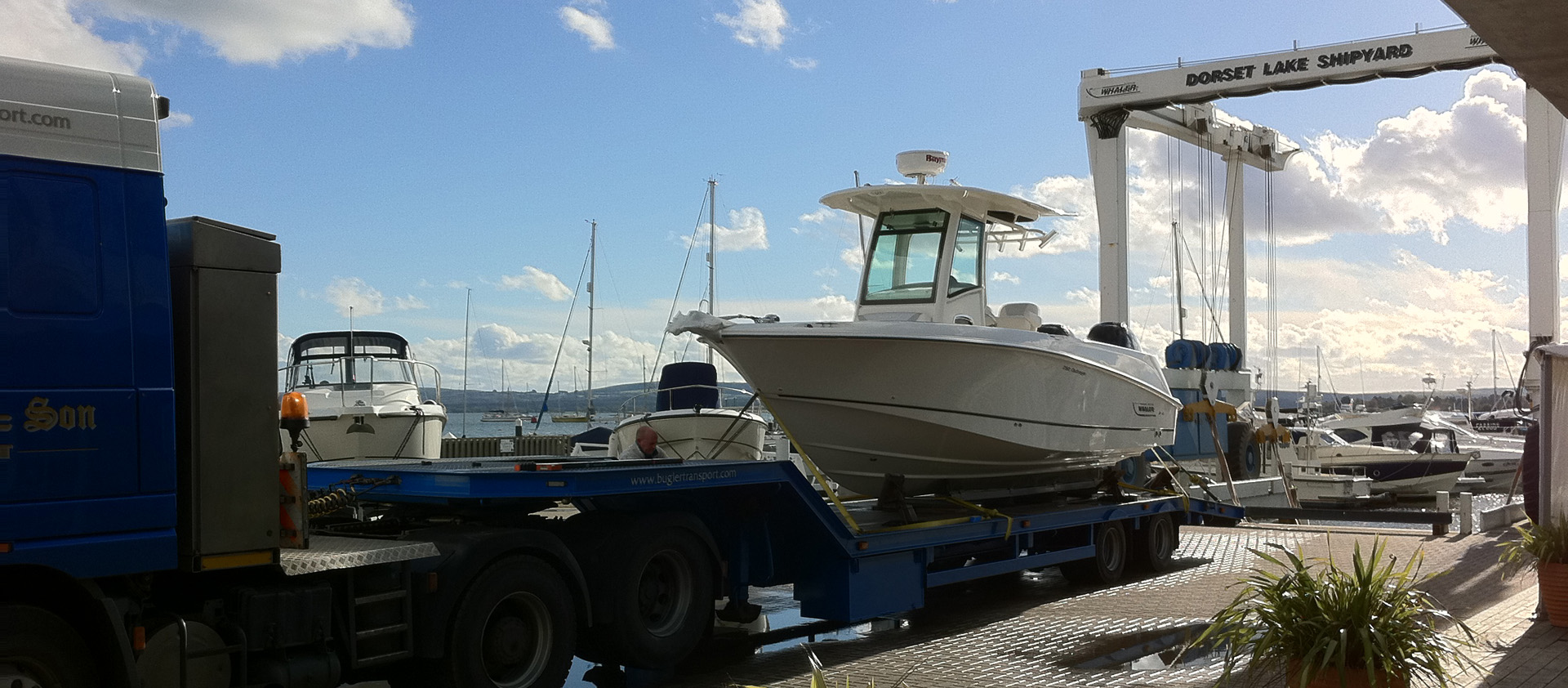 – Home to Boston Whaler in the UK, Ireland and the Channel Islands

Established in 1938, Dorset Yacht Company have had the pleasure of managing the UK Boston Whaler Distributorship which includes the Channel Islands and Republic of Ireland, for over 40 years. Sales and Service operations are run from our own "Lake Yard" marina and boat yard (originally known as Dorset Lake Shipyard).
From a boat purchasing perspective, our customers can rely on a truly marine-friendly team at Dorset Yacht Co, who have all owned or currently own a Whaler – for no other reason than they are the most versatile, sound and fun day boat for the sea conditions here in the UK.
Perfectly located on the edge of Poole Harbour, our marina, offices and boatyard facilities are right on the doorstep of Dorset's unique marine playground. In fact, our Marina is directly adjacent to the only approved water skiing area within Poole Harbour!  Known to be the second largest natural harbour in the world, Poole Harbour is studded with islands and history, making it a place of outstanding natural beauty to explore by boat and enjoy the many water sport activities.  Studland and Bournemouth beaches are among the best in the country and are very popular anchorage havens for many boats from Poole and further afield.
We own and operate a fifty berth deep water Marina accommodating vessels of up to 15 metres. South facing, our Marina complex benefits from natural deep water access at all stages of the tide making it a highly practical base to boat from for all Whaler customers. There is a 50 tonne Travel Hoist that enables larger vessels to be retrieved and launched with ease, and for smaller vessels there is a Hiab crane which can lift out and launch all Boston Whalers up to 21 feet. Also onsite, we have our own 3,000 square foot Boston Whaler Boathouse which provides ample space for display, service / boat-rigging, and winter storage.  While security is always an issue on the harbour edge, our site and marina are constantly monitored by CCTV and we are very fortunate to have the Royal Marines Base, right next door!
Boston Whaler Brokerage
Dorset Yacht Co is the only dedicated Boston Whaler Brokerage in the UK, Ireland and Channel Islands.  Having sold the vast majority of Boston Whalers from new in the UK, our expertise has been keenly honed over the last 30 years to offer both sellers and buyers the most genuine service available.  Buying a used boat has many hidden pitfalls and to help avoid these, we would always recommend that the buyer engages a registered Marine Surveyor to check over the boat before purchase.
This is how we can look after you:
Boat Appraisal and valuation, storage/display , viewings/sea trials, negotiations, Sale/Purchase documentation, title transfers, and the "all important" handover.
Photography (onsite Poole), specification preparation and posting of details onto our Bostonwhaler.co.uk website
Hard copy specifications printed and displayed at our busy Marina/Boatyard Office.
Our brokerage service is detailed, personal and relaxed – which is why we have built up so many loyal customers over the years.  There is a different adventure to be had with each and every Whaler model, and once hooked – you'll want to try them all!
Boston Whaler Back-Up
Our dedicated team of Boston Whaler technicians and mechanics provide full back up and service needs for boats and outboard engines from our on-site Boathouse / Workshop, giving peace of mind to new and current Whaler owners.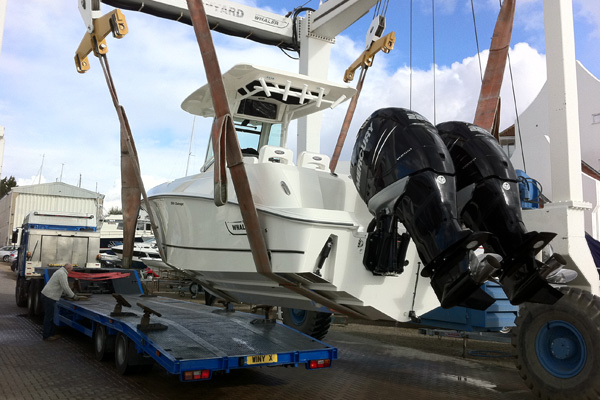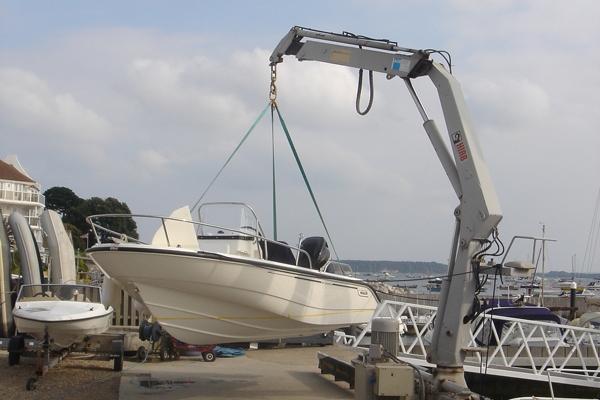 Boat Lifting
50 Tonnes Roodberg Boat Hoist (up to approx. 62')
6 Tonnes Iron Fairly Mobile Crane
1.5 Tonnes Dockside HIAB Crane
Lift on and off transport
Lift and hold for summer
Hull
Specialist Boston Whaler hull maintenance and engine servicing including antifouling, hull polishing and valeting and fibre-glass repairs.
Engines
Our specialist Boston Whaler technicians are perfectly set up with workshop facilities on site for all outboard engine servicing, rigging and warranty work for both Mercury and Yamaha outboard engines.  We also have on-site stern-drive contractors/marine engineers.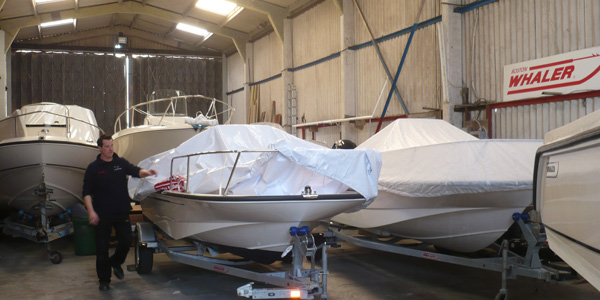 Boat House

Customers can opt to winterize their boat under cover in our dedicated Boston Whaler Boat House, which is also perfect for all-year-round engineering maintenance and new boat display.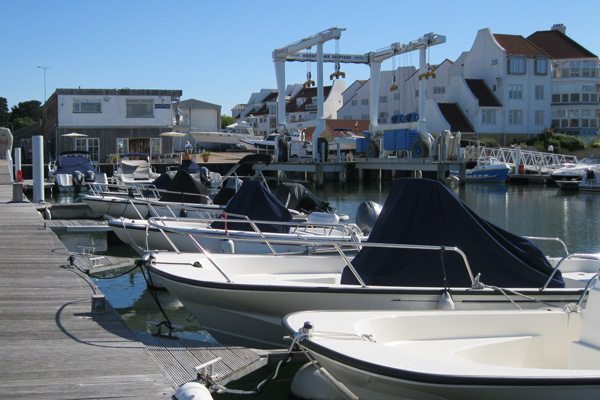 Marina Berths and Pontoon Berths
Lake Yard's marina, constructed in 1996, has permanent pontoon berthing facilities for up to 44 boats. There are additional active berthing facilities for craft using the swinging moorings and visiting boats. Our deep water pontoons are accessible at all states of the tide without grid or lock restrictions. A large area of the dock is naturally deep water and is based on wave screen construction.  Parking…. Shower facilities ….  Security ….  Wifi ….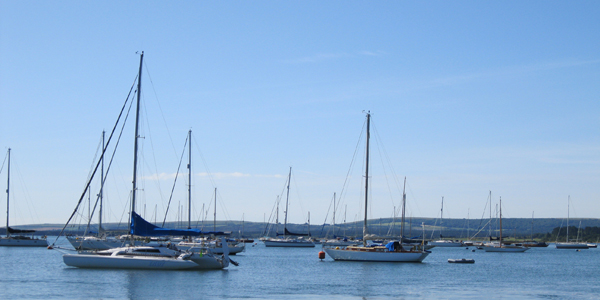 Swinging Moorings
Lake Yard's deep water swinging moorings are located to the North and to the South of the Wareham Channel. Lake Yard operates a launch shuttle service between the boats and the dock pontoon.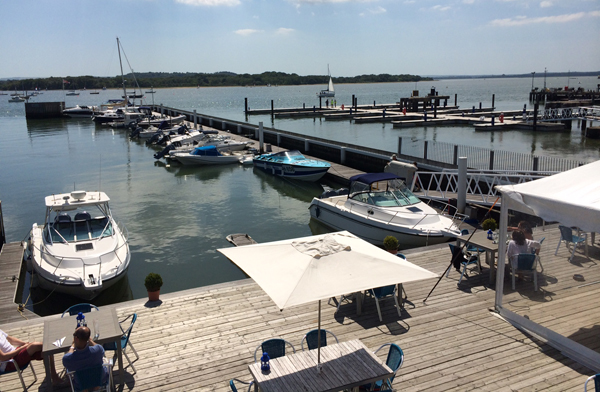 Lake Yard Club/Restaurant
Lake Yard Club Bar and Restaurant, overlooks the Boston Whaler pontoon in our marina, Poole Harbour and the Arne peninsular beyond. With seating and tables set out on the decking and a spacious indoor bar/restaurant, it's the perfect place to enjoy a delicious snack or meal and absorb the vista whether you have a boat or not.

Official Boston Whaler Distributors for UK, Republic of Ireland and the Channel Islands – for over 40 years!