Safe. Functional. Low Maintenance.
Great style. Smooth dry ride. Most boaters are familiar with the fact that you can put a hole in a Whaler hull or cut it in half and it will still float. We've even piled 15 people into one of our 16-footers to demonstrate its remarkable buoyancy. The unsinkability of our boats afforded by our exclusive Unibond construction process is legendary. But the foam provides more than just flotation. Sandwiched between two walls of fibreglass, our high-density, non-absorbent foam provides structural support and sound and vibration absorption in addition to unsurpassed flotation.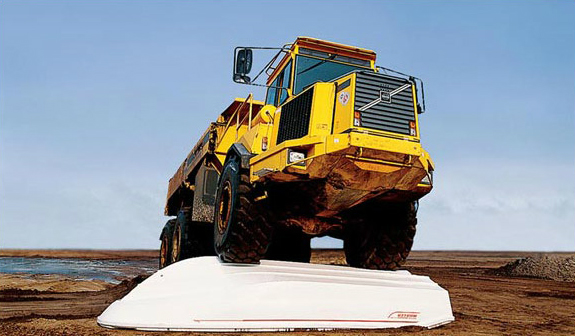 This means you have a solid hull, not hollow like most other boats. You can literally hear the difference. Pound your fist on a Whaler hull and then on the hull of another brand. If the hull sounds like a bass drum and flexes, imagine what it – and you – will be subjected to in rough water.
Some boat companies that claim "level flotation" may not be levelling with you. A Whaler's level flotation is truly level. Even if it's swamped and drastically overloaded. Whalers have up to two-and-a-half times more foam than is required to meet Coast Guard standards. Every bit of space in our Unibond hull is filled with closed-cell foam providing strength, sound and vibration absorption and, of course, flotation.
Whalers float level because the foam is positioned in the hull right up to the gunnels, so a swamped Whaler provides a protective ring around its passengers.
The cutting edge of hull design.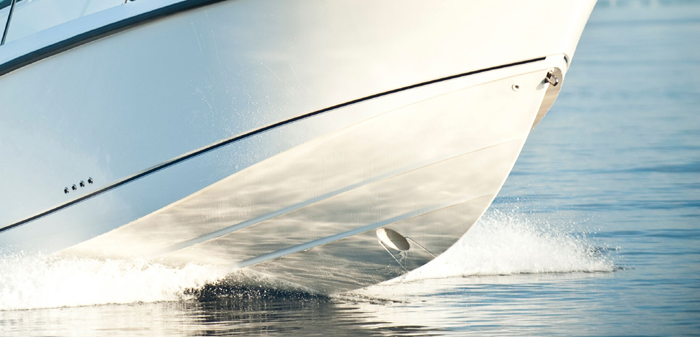 Boston Whaler's history of innovation started with its first hull. And today, our 13-footer, featuring a variation of the original twin sponson design, still delivers superior stability, shallow draft and optimum performance with minimal horsepower. Its unique bow shape – or 'smirk' – provides outstanding handling characteristics, a dry ride and excellent seakeeping ability.
Like the original hull, the Accutrack hull design of the Dauntless and Conquest lines features reverse chines which provide superior recovery, stability and a dry ride. To help tame bigger water, the Accutrack design features a deep-V forward which slices through wave action for a smooth entry when the going is rough. The offshore fish-fighting Outrage series sports the sharpest V entry. So the only pounding you'll feel is your heart.
Great style. Smooth, dry ride.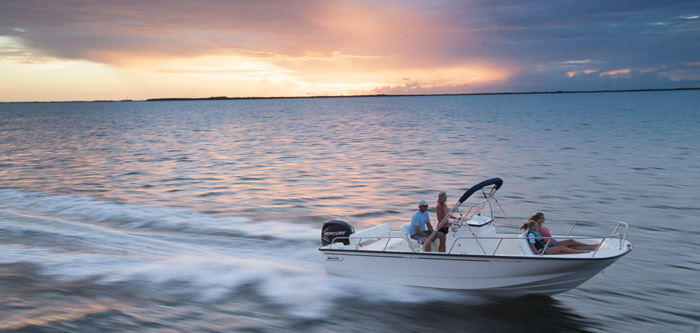 Speaking of rough water, you won't find a smoother, drier-riding boat than a Boston Whaler. The deep-V entry of our Accutrack hulls cleanly slices through unruly chop. Then reverse chines redirect that spray to the water's surface so you and your passengers remain dry. Other boat hulls may slice the waves but they have no provision to stop the waves from washing back into the boat. If you've ever been on a boat that forced you to wear foul-weather gear even when the sun is shining, you know how important this is.
Unsinkable.
No matter how you cut it.

In 1961, founder Richard Fisher used a crosscut saw to cut a Whaler in half. Today we use a chain saw. But the results are the same. Both halves float and you can still drive away in the half with the engine.
UniBond. What floats our boats.
Fiberglass and resin in a carefully controlled ratio are applied to both inner and outer hull molds simultaneously.
While the fibreglass is still wet and curing, the two molds are locked together and are then prepared for the polyurethane liquid to be introduced between the two layers of wet fiberglass.
As the liquid is introduced between the two pieces, it expands into a dense, closed-cell urethane foam that fills the space between the inner and outer hull molds. A chemical reaction between the foam and the fibreglass generates tremendous heat and pressure, permanently bonding the laminates together, forming a single, solid unsinkable unit.
After curing in the mold for as much as 12 hours, a single-piece, rigid structure is removed. The entire hull structure is then tested and inspected to ensure it meets our stringent specifications.
Click Here to see Boston Whaler Hull construction "Behind the Scenes" at Boston Whaler Factory, Florida.

Official Boston Whaler Distributors for UK, Republic of Ireland and the Channel Islands – for over 40 years!