Displaying Whaler's true "confidence to the core", the completely new 380 Outrage® makes her debut today at the Miami International Boat Show – 16 to 20 February 2017.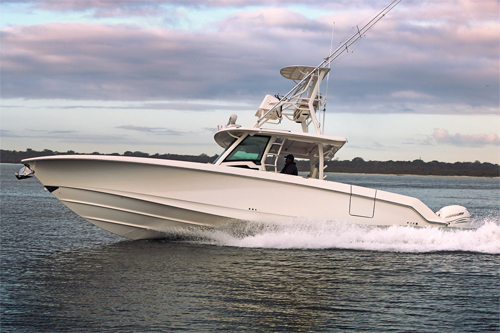 Performing beautifully as an offshore fishing platform, an entertaining vessel, a yacht tender or all of the above, this completely new Outrage model offers full-spectrum pleasure and adventure.
Featuring roomy, notched bow features, expansive seating and storage, the cockpit includes a new aft-facing couch with optional removable table and an optional Summer Kitchen – perfect for entertaining friends and family.
Boston Whaler's precision-engineered hull and triple Mercury® Verado® engines work together to provide remarkable efficiency, reliability and smooth, predictable handling. Optional Whaler Watch technology provides remote connectivity by monitoring systems and vessel position via satellite, ensuring 24/7 security even while away.
Stand Location: 3501 Rickenbacker Causeway, Miami, FL 33149. Located on Virginia Key minutes from downtown Miami
Boston Whaler Models on Display:
Uplands (A-115):
–        110 Sport
–        130 Super Sport
–        150 Super Sport
–        170 Super Sport
–        150 Montauk
–        170 Montauk
–        190 Montauk
–        210 Montauk
–        170 Dauntless
–        210 Dauntless
–        240 Dauntless
–        270 Dauntless
–        230 Vantage
–        270 Vantage
–        320 Vantage
In-Water (Pier 6; 608-620):
–        285 Conquest
–        315 Conquest
–        345 Conquest
–        230 Outrage
–        250 Outrage
–        280 Outrage
–        330 Outrage
–        350 Outrage
–        380 Outrage
–        420 Outrage
If you are thinking of attending the Miami Boat Show or would like further information on the new 380 Outrage, we would be delighted to help – call us here at Dorset Yacht Co: 01202 674 531